Weiss Schwarz Quintuplets Quintessential Set
Availability:

In stock

(5)
Introducing the Quintessential Set, a pre-constructed set containing all varieties of cards that were included in the five different Japanese edition Trial Deck+ products!

All of the cards in this Quintessential Set are exclusive cards and cannot be obtained anywhere else! Each set contains 26 guaranteed foils, inclusive of one guaranteed SP card per set!

Recreate the daily life of high school student Futaro Uesugi and his various encounters with the quintuplets as they make their debut on the Weiß Schwarz stage!

 
Product Information
SIGNED CARDS
Every set you purchase contains one of these hot stamped autographed cards by the following members of the cast:

◆ Kana Hanazawa as Ichika Nakano
◆ Ayana Taketatsu as Nino Nakano
◆ Miku Ito as Miku Nakano
◆ Ayane Sakura as Yotsuba Nakano
◆ Inori Minase as Itsuki Nakano
90 types + 30 types (Parallels)
Each set contains one copy each of all 10 SRs and 15 RRRs!
Each set also contains 4 copies each of 5 types of PR cards!
5 sets per carton
※ There are 361 cards per set. The inclusion of the PR cards brings the total number of cards in each set to 381 (complete set).
The cards in this Quintessential Set may be used together with cards that have card numbers beginning with 「5HY/」!
Featured cards from the Quintessential Set!
Hot stamped autographed cards by the voice actors!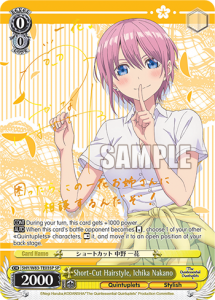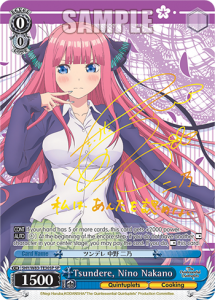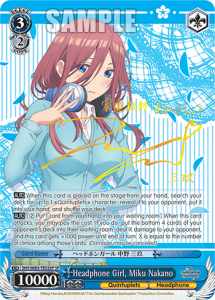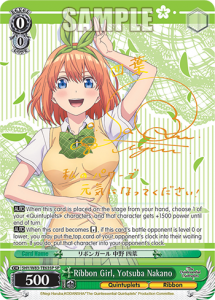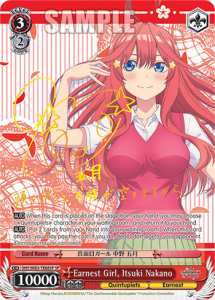 Additional PR cards in every set!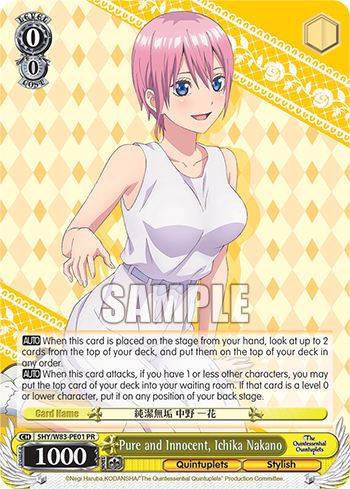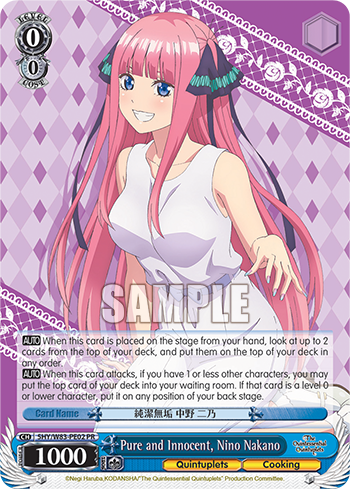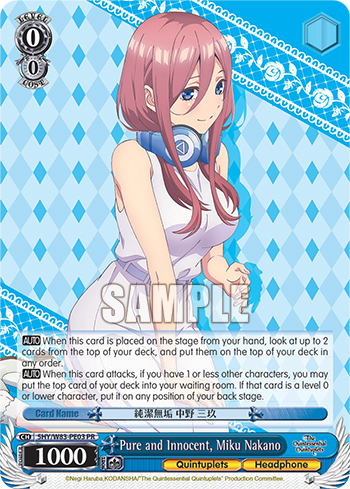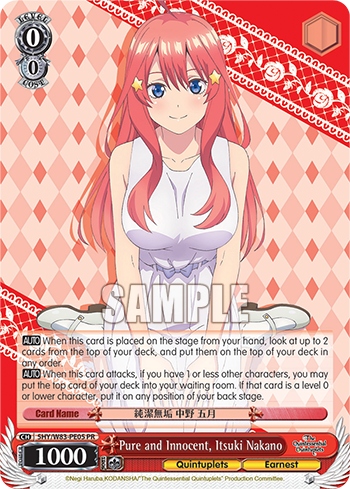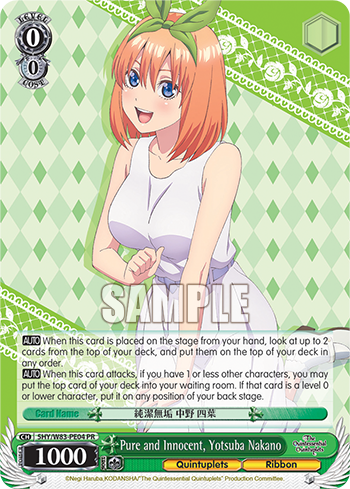 0
stars based on
0
reviews